LVPPACE Links

The Public Employment Retirement System helps you apply for benefits, join their beneficial membership, and invest in your future. There are resources for Active Members and Employers as well. Learn more here:
Nevada Public Employment Retirement System.

Mass Mutual (formerly The Hartford) is here for you in all stages of life, but has specific solutions geared toward retirees. You can get a quote, find an agent, file a claim, and plan for natural disasters. There are other types of insurance available as well. Go to their website to get started:
http://www.massmutual.com/.

Aflac provides supplemental insurance for individuals to help pay benefits your major medical insurance may not cover:
http://www.aflac.com/.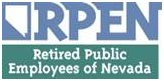 ATTENTION ALL PUBLIC EMPLOYEES!
ARE YOU CONCERNED ABOUT RETIREMENT CHANGES? TOO BUSY WORKING TO KEEP UP WITH THE LATEST LEGISLATIVE PROPOSALS AND CHANGES?
ARE YOU VESTED IN NEVADA PERS (5 YEARS)? YOU CAN HELP! JOIN RPEN! Click here for flyer.
Teachers, police officers, firefighters, city, county & state public employees and EVEN their spouses are able to join the Retired Public Employees of Nevada even while actively employed.
Strength in numbers counts when we lobby on your behalf.
RPEN's efforts have contributed to constitutional protections of our PERS system; post-retirement increases of retiree pension benefits; and an awareness of the importance of a solvent, sound retirement system. We are also working with the Social Security Fairness Coalition to repeal the Windfall Elimination Provision (WEP) and Government Pension Offset (GPO) so those with Social Security credits can collect more upon retirement. Retired Public Employees of Nevada (RPEN) www.rpen.org